Food Catering
Enjoy up to 20% discount for selected buffet packages.
Mini Buffet C (Min 15 pax)
00007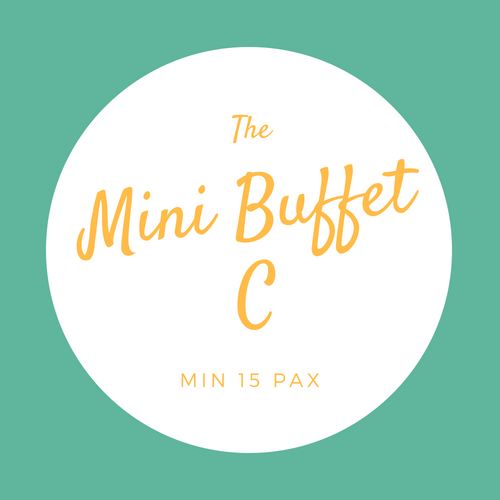 Min of 15 pax.

Great for small party and office party.

All food are packed in disposable microwavable container / aluminum tray with disposable cutlery provided. We provide disposable foam plates, plastic forks, spoons, black bin bag, chilli and serviettes. Easy clean up no collection required.
Table for Food & Warmer are NOT provided
Food best consumed within 2 hour.
Rice / Noodle
Yang Chow Fried Rice 杨州炒饭 (Veg option Available) (0) Sin Chow Bee Hoon 新州米粉 (Veg option Available) (0) Olive Fried Rice (0) Nonya Fried Mee Siam (0) Thai Pineapple Rice (0) Spaghetti Agli Olio with mushroom (0.5)
Chicken
Lemon Chicken 柠檬鸡 (0) Signature Nonya Curry Chicken 招标娘惹咖哩鸡 (0) Roasted Chicken w Mushroom Sauce (0.8) Home Made Prawn Paste Chicken (0) Sichuan Chicken with Cashew Nut (0) Garlic Honey Baked Chicken Drumlet (0)
Fish
Cereal Fish 麦片鱼 (0) Sweet & Sour Fish 酸甜鱼 (0) Ocean Catch with tartar Dip 香脆炸鱼塔塔将 (0) Nonya Assam Pedas (Assam Fish) (0.8) Fish Fritters with Spicy Mango Sauce (0) Salted Egg Fish (0.8)
Veg
Cauliflower w Mixed Veg 菜花杂菇 (0) Xiao Bai Cai W Mushroom 小白菜杂菇 (0) Luo Han Chye (Veg) (0) Beancurd w Mixed Veg 豆腐杂菜 (0) Hong Kong Kai Lan (0) Nonya Chap Chye (0)
Dim Sum
Hand Made Mini Soon Kueh (0) Crystal Dumpling (0) Steamed Yam Cake (0) Seafood Siew Mai (0) Har Gao (0)
Sides
Veg SpringRolls 素春卷 (0) Crispy Samosa 香脆咖哩角 (0) Fish ball (0) Mini Ngoh Hiang 小五香 (0) Chicken Nuggets (0)
Tofu
Brasied Tofu with Mixed Veg (0) Home Style Cai Po Tofu (0) Thai Style Tofu (0) Beancurd with Triple Mushroom (0) Chicken Floss with Tofu (0.3)
Prawn
Cereal Prawn (0) Black Pepper Prawn (0) Salted Egg Prawn (0.5) Tomato Chili Prawn (0) Kong Bao Prawn with Dried Chilli (0) Sweet & Sour Prawn (0)
Dessert
Longan w Mixed Fruit Cocktail 龙眼杂果 (0) Honey Sea Coconut w Longan (0) Grass Jelly with Longan (0) Mini Chocolate Eclair 米你巧克力泡芙 (0) Mini Vanilla Profiteroles 米你奶油泡芙 (0) Chendol w lychee ($0.3/pax) (0.3)
Delivery date (No available from 26 Jan -17 Feb 19)
Please Note Mini buffet has no Set Up and warmer but cutlery will be provided
I understand (0)