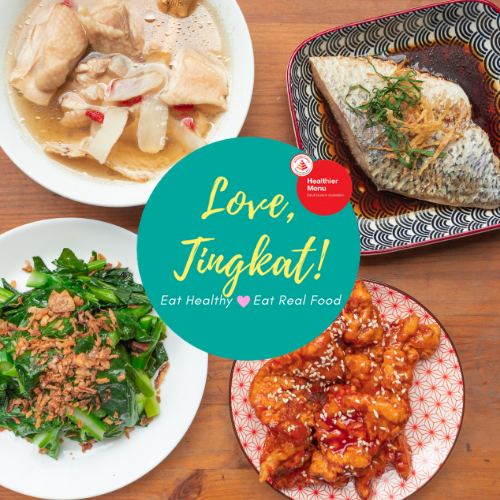 Love, Tingkat!
Love, Tingkat! is our healthy food menu for those that are mindful of their nutrition. Made with 100% fresh ingredients, all our home cooked meals are nutritious as they are healthy!
Along with mains that include sweet and sour prawns, poached chicken leg with sweet soy sauce and emperor herbal chicken, we also serve our daily meals with fresh greens and a soup of the day.
You will get 3 dishes or 3 dishes & 1 soup for all your daily lunch/dinner meals.
We serve the same menu for both lunch and dinner deliveries of the day.
You have our assurance that food on this menu:

– Is Singapore healthier choice certified
– Contains no processed or canned food
– Uses low sodium salt
– Uses healthier canola oil
– Uses less salt and oil in our dishes
– Uses zero MSG and artificial flavours
– Uses paper containers for reheating
Delicious food for your family for lunch/dinner or to share at the end of school and work – check out our tingkat lunch delivery in Singapore or tingkat home delivery for good food no matter which meal it is!
Find Out More